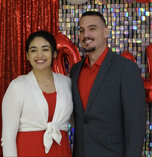 Brian Cole
Youth Director
Email: briancole.youthdirector@gmail.com
"All authority in heaven and on earth has been given to me. Go therefore and make disciples of all nations, baptizing them in the name of the Father and of the Son and of the Holy Spirit, teaching them to observe all that I have commanded you. And behold, I am with you always, to the end of the age." + Matthew 28:18-20
As the Youth Minister at FBC Los Fresnos it is my vision to establish a firm foundation for the youth, guiding and discipling them to trust in the Lord with all of their Heart, Mind, Soul and Strength (Mark 12:30-31) in the midst of a confused and lost generation, through the inherent and infallible Word of God. The vision is to have our youth equipped and ready to take part in the Great Commission of our Lord and Savior, Jesus Christ, here and now. "For the harvest is plentiful, but the laborers are few." (Matthew 9:37)
The youth at FBC Los Fresnos have made it a mission to be team L.I.F.T. Striving to live as one body (L)oving God and loving people while (I)ntentionally making disciples through (F)ellowship and (T)ruth in Christ Jesus our Lord.
Grace and Peace,
Brian Cole
Youth Director
Regular Events
Sunday School 10am
Wed. 6:00 pm Food and Bible Study.
Youth Beach Reach 2023
Youth had the privilege of going to SPI for some fellowship and evangelism. They were able to learn about "Beach Reach Week" and along with their youth their Youth Minister and young adults, participated in passing out gospel tracts and having spiritual conversations with people, young and old, on the beach. After arriving back to the Church we shared our experiences and prayed. Lunch was provided at the Youth Fellowship Hall. Gameroom, and basketball court were also available for fun and fellowship.